Yoga Therapy Retreats at The Ayurvedic Healing Village
Kairali Yoga offers guests the best of modern holistic therapy;staying true to the ancient principles of Yoga, Ayurveda and natural health on which our centre was founded.
Yoga Therapy is the skilful use of Yoga posture, breath-work, mindfulness and meditation to ease a wide range of health conditions, while forming a strong mind-body connection to support the process of healing and rejuvenation.
Through extensive consultations with our Ayurvedic Doctor and Yoga Therapist, we prescribe authentic, time-proven Yogic techniques tailored to the individual's needs. Our resident Yoga Therapist then provides guidance on how to use these self-healing techniques for optimum benefit, and make them a permanent part of your lifestyle.
Click here to read more about the benefits of Yoga Therapy.
Your Personalized Yoga Therapy Retreat
Initial Consultation:
Your first day on retreat is dedicated to complete relaxation. Enjoy a complimentary Ayurvedic oil massage and relax by the pool while taking leisurely consultations with our Ayurvedic Doctor and Yoga Therapist. This allows our experts to consult each other and create exactly the right program for you.
Daily Itinerary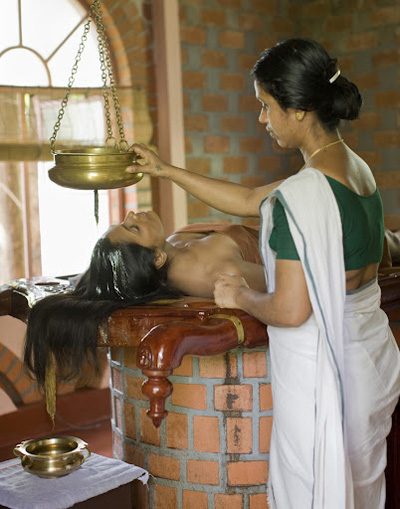 Morning Hatha Yoga – 60 minute group session of authentic Hatha Yoga, refreshing the mind and energizing the body for the healing day ahead.
Ayurvedic Oil Massage (Abhyangam) – 60 minute Ayurvedic spa treatment, followed by steambath. The Ayurvedic scripture advises that Abhyangam is the best daily treatment to ensure health and wellbeing.
Afternoon Yoga Therapy session – 90 minute private session with your Yoga Therapist, using the tools of Hatha Yoga to help you reach your personal healing aims. Your tailored yoga session includes asana (posture), pranayama (breath-work), meditation and Yoga Nidra(deep relaxation) - an expertly designed session based on your personal requirements.
Evening Group Meditation – 60 minutes session with our resident Meditation Teacher.
Inclusions:
1 Initial consultation with Ayurvedic Doctor
1 initial consultation with Yoga Therapist
2 Yoga sessions per day
1 Ayurvedic spa treatment per day
1 Group meditation session per day.
Your own private luxury villa, designed according to the principles of VaastuShaastra (Indian fengshui)
Organic Vegetarian Ayurvedic food service (3 meals per day)
Ayurvedic cooking class (1 per week)
Harmonious natural surroundings of ancient healing trees and herbs
Full use of resort facilities including swimming pool, gym, library, tennis courts, recreation room and snooker table, cyber centre.
Children under 5 welcome and free of charge.
Optional Extras: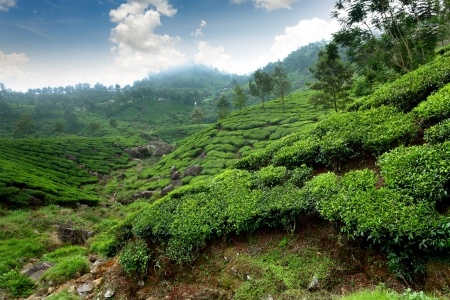 Ayurvedic treatment courses for specific health conditions
Private meditation courses with our resident meditation expert
Workshops in Yoga, Ayurveda and Meditation
Lectures in Indian Philosophy
Palmistry consultations
Vedic Astrology readings
Mantra chanting and spiritual ceremonies (pujas)
Kerala tours and local travel
The Benefits of Yoga Therapy
Increased physical wellbeing:
Safely and gently improves physical strength and flexibility, helping you to establish a life-long Yoga routine to steadily increase your fitness capabilities, physical posture and general wellbeing
Emotional health and stability:
Eases a range of emotional health issues and provides tools with which to cope with stress and depression. Yoga therapy provides relaxation and grounding for anxiety issues; energy and inspiration for depression, and enables regular and refreshing sleep patterns.
Spiritual benefits:
Yoga Therapy maintains the values and ethics of Patanjali's authentic Ashtanga Yoga system. It maintains the core intention of Yoga: the skilful use of methods to bring the individual into optimum balance of mind, body and spirit. Mindfulness techniques and bodily awareness form a core part of Yoga Therapy, aiding the healing process and providing a fuller appreciation of life.
Weight-loss:
Yoga Therapy for Weight-loss provides a fast-paced, cardiovascular Yoga practice that you'll enjoy incorporating into everyday life. Yoga postures, meditation and internal practices aid thyroid function, digestion and prevent the habit of overeating.
Chronic Health Conditions:
Yoga Therapy has been found to be highly effective in managing: Back pain, sciatica, diabetes, asthma, arthritis, RSI, hypertension, obesity, digestive disorders, rehabilitation from injury, drug and alcohol detoxification, insomnia, stress, anxiety and depression.