Yoga and Ayurveda Retreat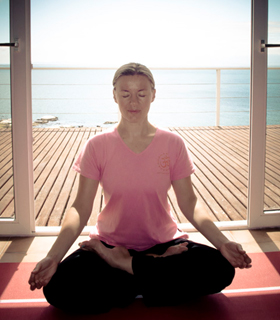 27th Nov – 5th/7th Dec 2013 Heal and Harmonize: A Restorative Yoga Retreat in the Heart of Kerala
- with Yoga Therapist Taryn Herselman, and Guest Lecturer Meditation Guru / Yoga Instructor and Dr. Sarvann
BOOK BY 31st OCTOBER AND SAVE UP TO 500 EUROS!
Kairali Yoga is pleased to welcome expert Yoga Therapist and Meditation Teacher Taryn Herselman to host Heal and Harmonize: a 7 to 10-day Restorative Yoga retreat at The Ayurvedic Healing Village, Kerala.
Experience Hatha Yoga and deep relaxation in the harmonious atmosphere of The Ayurvedic Healing Village, where your compassionate guide Taryn Herselman leads you through an authentic experience of Yoga, including relaxation workshops, guided meditation, a personal Ayurvedic consultation and special evening events.
Experience the world of Yoga and Ayurveda in one of India's most authentic and luxury locations, a destination recognized as one of the 'Top Ten Wellbeing Meccas' in Asia by the National Geographic Traveler Magazine.
Learn new wellbeing strategies and gain lifelong inspiration with our talks, workshops and consultations, hosted by three leading experts in Yoga and Ayurveda:
Yoga Teacher: Taryn Herselman, Ayurvedic Doctor:Dr. Sarvann, Philosophy Teacher: Meditation Guru / Yoga Instructor.
Heal your body and bring harmony to your whole being, with expert coaching in Hatha Yoga, Yin Yoga and Meditation, and nutritious Ayurvedic cuisine in the company of friends.
Hatha Yoga, Yin Yoga, Wellbeing Workshops and Deep Guided Relaxation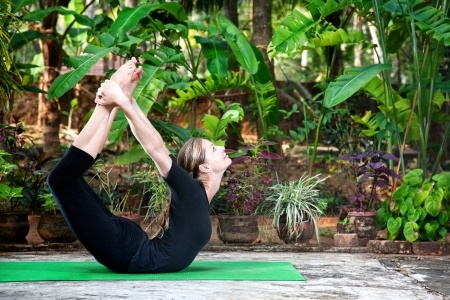 Morning Hatha Yoga sessions taught by an expert on our beautiful Yoga platform, canopied by palms and surrounded by rare healing trees and herbs.
Afternoon workshops Yoga Nidra – deep guided relaxation bringing you rest and rejuvenation equivalent to several hours' sleep.
Evening Yin Yoga and Meditation sessions deepen the mind-body experience and make meditation easy by combining it with mindful bodily awareness.
Individual consultation with one of our world-class Ayurvedic doctors, diagnosing your personal Ayurvedic type.
Special events and workshops including:

- Introduction to Indian Philosophy – an entertaining discussion of Yoga and Ayurveda, providing a clear, modern explanation with real personal meaning to those of all belief systems.

-Introduction to Ayurveda – an expert talk on the meaning and method of the world's oldest healing system from our highly qualified Ayurvedic doctor.

-'Exploring your Ayurvedic type' practical Yoga workshops giving you Yogic and lifestyle techniques for your personal Ayurvedic type.

-Exclusive 'Breath connection' wellbeing workshop: expert Yoga Therapist Taryn Herselman gives you life-long techniques for instant stress-relief.

-Ayurvedic Cookery Workshop - our world-class Ayurvedic chef shows you how to prepare a delicious 3-course Ayurvedic meal.

-Mantra chanting—a proper introduction to the meaning and method of mantra chanting and the chance to experience authentic mantra meditation and spiritual ceremonies.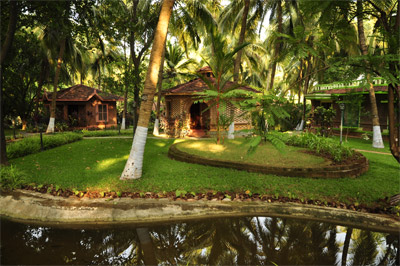 Inclusions:
The full retreat schedule as above, including 1 x private consultation with our Ayurvedic doctor.
Your own private luxury villa, designed according to the principles of Vaastu Shaastra (Indian feng shui), set on the sprawling grounds of our Ayurvedic retreat village in a harmonious atmosphere of rare healing trees and herbs.
Three 4-course meals of luxury organic vegetarian Ayurvedic cuisine per day.
Full use of facilities including swimming pool, tennis courts, fitness center, library, games room, snooker table and cyber center.
-Children under 5 welcome and free of charge.
Extras:
Ayurvedic spa treatment courses for detoxification and weight loss, and individual spa treatments for relaxation, including Abhyangam (oil massage and steam bath), Sirodhara (classic Ayurvedic relaxation treatment) and Kadikizhi (body toning and weight-loss massage).
Personal Vedic astrology reading from a respected local Brahmin (Hindu priest)
Individual palmistry consultations.
Kerala tours in the local area: experience wildlife, pilgrimage sites and tea plantations in the beautiful Western Ghats, a UNESCO World Heritage Site known as one of the eight 'hottest hotspots' of biodiversity in the world.
Daily Itinerary
06.30 am to 07:45 am – Hatha Yoga
07:45 am to 09:30 am – Breakfast
09:00 am to 11:30 pm – Free time
11:30 pm to 12:15 pm – Yoga Nidra
12.30 pm to 02.30 pm - Lunch
04:00 pm to 05:00 pm – Wellbeing workshop
05:15 pm to 06:30 pm – Yin Yoga and Meditation
06:30 pm to 08.00 pm – Dinner
08.00 pm to 09.30 pm – Evening event/social time
SINGLE RATES EUROS
SINGLE RATES 7 - Days
VILLA
FINAL PRICE 7 -Days SINGLE Euros*
YOU save 7 Day Single
Deluxe Villa [8]
987
278
Classic Villa [13]
1116
315
Royal Villa [6]
1300
367
Maharaja Suite [2]
2148
606
SINGLE RATES 10 - Days
FINAL PRICE 10 Days SINGLE Euros*
YOU Save 10 Day Single
1376
388
1562
440
1824
514
3036
856
DOUBLE [Two Sharing] RATES - EUROS
DOUBLE RATES 7 - Days
VILLA
FINAL PRICE 7 -Days Double Euros*
YOU Save 7 Day Double
Deluxe Villa [8]
1549
437
Classic Villa [13]
1679
473
Royal Villa [6]
1859
524
Maharaja Suite [2]
3049
860
DOUBLE RATES 10 - Days
FINAL PRICE 10 -Days Double Euros*
YOU Save 10 Day Double
2162
610
2348
662
2605
735
4306
1214
*: YOUR BOOKING MUST BE CONFIRMED BEFORE THE 31ST OCTOBER TO RECEIVE THIS DISCOUNT
Mob: +91- 9555156156 OR EMAIL RETREATS@KAIRALIYOGA.COM TO CONFIRM YOUR BOOKING
Mob: +91- 9555156156 NOW TO FIND OUT MORE
---
Please contact our helpful Customer care.
Email: retreats@kairaliyoga.com
Mob: +91- 9555156156